Shopping Cart
Your Cart is Empty
There was an error with PayPal
Click here to try again
Thank you for your business!
You should be receiving an order confirmation from Paypal shortly.
Exit Shopping Cart
| | |
| --- | --- |
| Posted on July 19, 2012 at 3:40 PM | |
Days 317-318.
   First, we had to find new accomodation. We were walking for long with our big rucksacks on the streets and roads of Golmud. We were heading for the centre, enquiring about possible lodgings here and there. Back on the train we dipped into a travel book mentioning a certain Golmud Hotel offering cheap accomodation. No one seemed to know about it.
   At a corner, we ran into an older, Canadian couple. They were staying in a fairly expensive hotel next to the station and they were just about to take a walk in the town. They accompanied us for a while but even joining forces we failed to find the above mentioned hotel.
   We were considering starting to hitch-hike and leave town, when, entering a hotel after many ones, as if it was sort of evidental, we got a room, and a very cheap one at that. Getting rid of our burden, we went for a walk.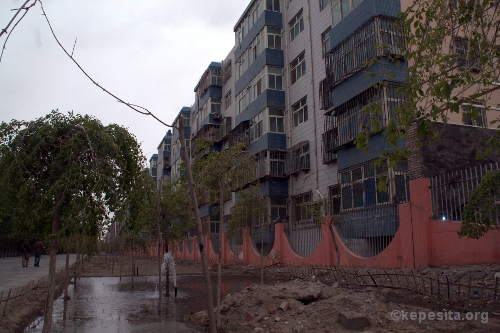 Though Golmud is a town with many hundreds of thousands of inhabitants, it is not stifling. Its wide streets, monotonous line of buildings are made colourful and lively by plenty of trees. The centre is bustling with life but the stores here don't touch each other closely but they are nicely lined up. The farther you get from the centre, the more barren the streets become, though their width remains the same.
   'The park' is a nice mixture of a forest, pedestrianized street, amusement park, playground and boating lake, it reminded me of the Middle Eastern European states of the 80s. As we passed the park, we got to the Islamic part of the city. Behind the mosque constructed in Chinese style, a new mosque, an entire 'Islamic centre' has just been built. We walked in to the contruction area. The dog apparently cared not one bit about us entering, the leaders of the contruction greeted us nicely.
   Our destination was the river crossing the western part of the town. Reaching the river, we gladly stated that we finally found a city that has an ending – so the hitch-hiker knows where to stand.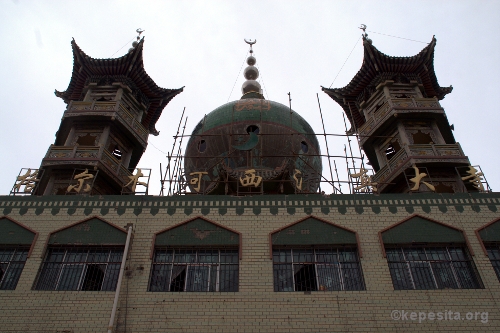 Alex's stomach has for long indicated that we were dealing with a much bigger problem than a simple indigestion. So the day following we went to see a doctor. While walking in town, we watched the locals carrying different loads (from trash to huge pieces of furniture) on tricycles. Alex plays in a band back home. He plays the keyboard. It was great seeing his face when, running into a piano store his fingers got to touch the keys again, after 10 months. This is when the idea came. We should totally get a tricycle, a keyboard and continue our journey musical pedalling for a while!
   I'm not a real cycler kind of person, Alex himself 'had enough' when riding the bike from Madrid to Istanbul but still, this plan raised our spirits.
   After a little enquiring about we found out that carrying out this task is not impossible at all. For the price of 100-150 dollars we could be able to purchase everything this trip needs – including a tricycle with a plateau and a keyboard.
   We visited the police station to ask about a permit necessary for entering one of China's northern provinces (we intended to cycle up to the Great Wall, then, depending on the road conditions, along the Wall we'd head for the capitol). To our big surprise, at the station both a lady and a gentleman spoke very good English.
   We were facing the 'perfect' police-officer. We received the information needed from the gentleman who took his job 100% seriously. We want to visit that province on bike? A nice smile, then a strict look – he's not allowed to give permission for that. Only if we were going by bus. It's okay, we'll change the itinerary. We asked for information on the local hospital – he enlightened us nicely, almost with empathy on his face, asking about Alex's condition. Then came the poker face again – which hotel are we staying at? We don't know what it's called. Are we aware that only specific hotels are allowed to have guests from abroad? Could we get a list of these hotels? There's no list. He asked for out passports – thus, we got in the 'system'. We were given farewell as if we were 'old friends'.
   Then, Vita was heading for the bus station and we were on our way to the hospital. We were trying our best to explain the old lady doctor what the problem was; eventually, she prescribed a truck-load of antibiotics. In the evening, Vita wished us best luck with our tricycle adventure, said goodbye and got on a bus heading south.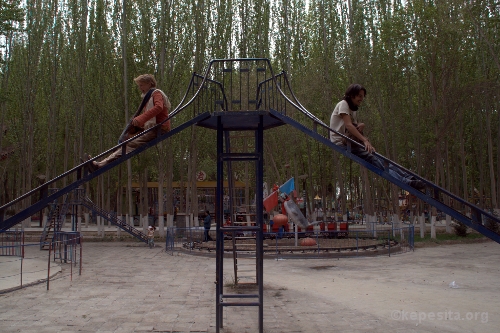 Day 319.
   In the morning, the head of the hotel showed up and we were asked to leave. We were looking for a tricycle and searching for accomodation in the city at the same time. We did find a room at the northern side of the park, at the Islamic part. We got rid of our loads and from a nearby shop we called a friend of Alex's working in Shanghaj so that we could increase our chances by knowing the Chinese word for 'rickshaw-market'. After the shop manager wrote down the proper 'marks', our hosts changed their minds and sent us away.
   We were wandering in town until dark. We tried several tricycles but they were either in very bad condition or the owner didn't want to part with them. We didn't find lodgings, either.
   Passing by a building of glass walls, a few girls appeared at the door. We asked if they knew about accomodation for us, then they walked us over the nearby hotel. We had already been there so we weren't suprised by the fact that we got rejected. However, this made clear for the girls how hard it is to find cheap accomodation as foreigners so they proposed that we pay for feet massages and we could spend the night at their's. This is how it turned out that we were dealing with nice employees of a massage salon.
   We were led to a massage room where we could put our stuff, then, two of them accompanied us over the neighbouring restaurant and ordered us dinner of such a huge helping that we –although tried to do our best- failed to empty the plate on the middle of the table, full of all kinds of delicacies.
   Returning to our 'room', the girls offered us tea and sweets. We communicated with the help of one of them's cell phone dictionary. They soaked our feet in hot water enriched with various sorts of spices, then massaged and cracked them with expert hands. The atmosphere was good in the room for long after the massage; most of the time, we had great laughs merely about the clumsiness of our communication.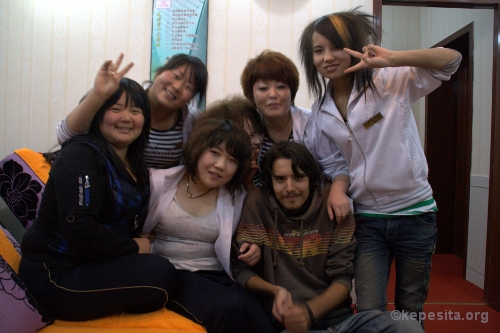 Days 320-329.
   We were asked not to leave our backpacks in the massage salon, so we set out hotel- and tricycle-hunting with all our stuff. We were heading for the eastern part. Walking around in the suburbs we watched the three-wheelers passing by when a fairly good hotel turned up as if from nowhere right in front of us. Judging by the look of the cars parking at it, it wasn't suited for our budget, but we gave it a shot and stepped to the receptionist girl. After some bargaining, we took a room. The girl asked our data, so –at least I thought so- we finally got to stay at a hotel from which we wouldn't be sent away, for fear of police, i.e. they had the permit for letting us stay there. To our surprise, there was internet cable in the room, so the hours we spent 'at home' we got to pass usefully.
   Now we went on rickshaw-hunting without our backpacks. After a while, we saw one of pretty good condition, in front of a store. The manager inclined to trade but he demanded too much money. Bargaining went on and on with laughters, we started to feel like we almost had 'the merchandise' when the wife turned up and declared that the rickshaw was not for sale. It was beyond dispute.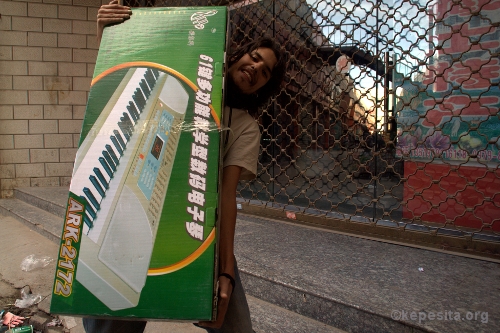 That wasn't the first time we encountered this openly the female dominance so typical of Chinese families. It was a few days ago that a husband sent us away from his hotel once his wife turned up, and the day following, when buying the keyboard, even though we were in the middle of a great bargaining with the man – the wife showed up and immediately fixed the price beyond question. Most of the cab drivers are women; in big cities buses have female drivers; in car workshops, it is oily female hands that hold the welding torch; at the carpenter's, a smiling lady pushes the board on the carpenter tool… As opposed to European culture, the professions, branches of work seem to be less divided between women and men. At home, the phenomenon 'women wearing pants' is presumably less secret.
   The same afternoon, we ran into a bike mechanic at a corner. He was working in the shade of a parasol that was balanced by a tricycle. We made a deal surprisingly quickly and bought the vehicle together with its pump and lock for 350 juans (ca. 50 USD).
   The following days were spent mostly preparing for the journey. We obtained a few tools which might come in handy during a tricycle trip, painted our rickshaw which got named Vita after the German girl who was present when the idea came to being. In the side wing of the hotel there was a kitchen where we could eat at a low price.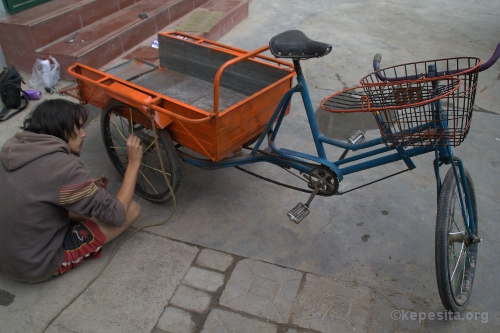 We got to know Kirin who was staying in the next room; he had to come to Golmud from Beijing because of his land surveying job. He was not only of great help in the communication with his English knowledge but we also thanked him for a dinner, having beers and a dancing.
   One day, Chen, the receptionist girl indicated that she'd like to take a photo. I interpreted it that she wanted a picture of us together until with Kirin's assistance we found out she asked me to take photos of her. It wasn't really clear what sort of pictures she was expecting from me; nevertheless, one morning Kirin and us set out on the 'photo trip'. Chen caught a cab and we went to a park at the eastern edge of the town. It was gloomy and windy. We were walking around and I was clicking. At the end, Chen's mother turned up - I made a few photos of them, too. We returned to the hotel all cold. It turned out, it was managed by Chen's mom. For the evening, they invited us over to dinner.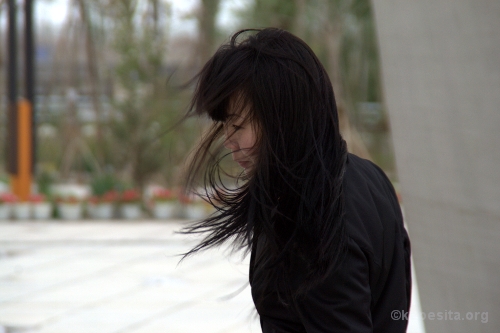 Alex's stomach didn't get any better, so we went back to the hospital. This time, they took some tests and gave another load of medicins for stomach infection. That evening Alex and his doctor mother had a long conversation on which medication was what and which one of them to take. He payed attention to his diet as well, so slowly he started to show signs of recovery.
   On our last night we watched the online broadcast of the Road Junky festival held in Berlin (which two of our films got in). Then, we deemed the time come for us getting started and bringing some tunes into the solitude of the Tibetan plateau.
translated by Agoston Galambos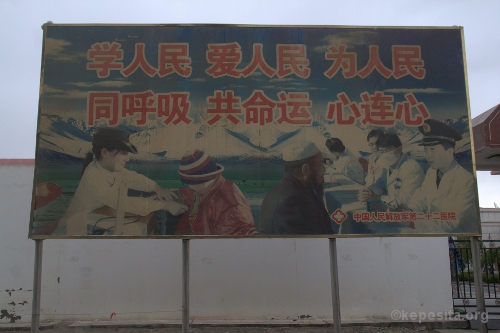 Categories: English, by Peter, China

0

/