Shopping Cart
Your Cart is Empty
There was an error with PayPal
Click here to try again
Thank you for your business!
You should be receiving an order confirmation from Paypal shortly.
Exit Shopping Cart
| | |
| --- | --- |
| Posted on October 13, 2010 at 9:25 PM | |
Days 265-267
I jumped on a bus in Agra and took it until the start of the main road heading westwards, to the pay toll gates. I didn't have to wait much, soon I was sitting in the cabin of a all-colour, all-holes, all-corrosion truck. Two men were replacing each other in the driving, they barely uttered a word while on the road. The person sitting in the front passenger seat occasionally slammed the glove compartment, which meant that the road in the left lane is free. During the trip of several hours there were constantly Indian songs playing - I didn't do too much to initiate communication, either.
Ont he way to Rajasthan there were more and more camel-pulled carriages along the way. In Jaipur I would have stayed at a friend's friend, but I was unable to find the person. It was evening already when I started to search for accommodation. I found a few hotels but they were all full. The "not recommended" method remained.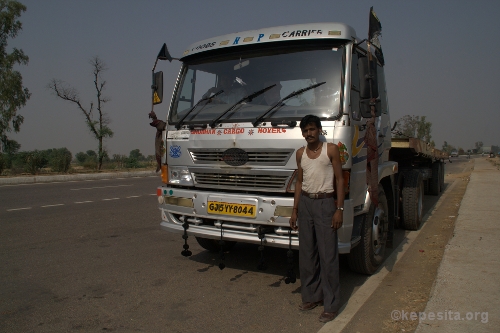 At the rikshaws standing around I asked for a cheap hotel. One of them was an "eager beaver" and immediately called a hotel friend of his on the phone. I told him about my doubts and he guaranteed that he knows a room for me for 200 rupees. He said he would take me there and if I don't get a room he would take us back to the original place for free.
It was evident that he was not doing this just because he liked me so much, there had to be something else behind it besides him getting some money from the hotel if he gets them a customer.
He parked in front of the hotel and told me to first talk to the boss. They led me into a hidden little jewellery store, where, in a small room in the back, the chief received me with "open arms". He decide to become my friend at an instant and invited me to tea and dinner. I told him that first I would rather check in, upload a blog entry and read my emails, so he offered that "Servant Boy", a young and kind boy, who was around him all the time, would lead me to an internet cafe.
That is how it happened. It was late night by the time we got back. At the jewellery shop they asked me to wait because there was a business meeting inside. I talked with the friend, and probably business partner, of the boss, who lived in Thailand, but was constantly on the move in the World and monitored the path of the gold here and there. He spoke about Thailand in a very enthusiastic manner, how life was free of religious and other bonds over there.
The chief received me as an "old friend". He asked me about my trip, where I travelled to before India and how I travel, etc. And of course the recurring question, how I finance my travels. I told him that my expenses are minimal and if I ran out of money in 1-2 months, I will stop and look for work where I am.
This is when he let the cat out of the sack. He introduced it with his international connections, the jewllery shops he had and the fairs they organized in different countries, where they often were also looking for foreign workforce - the chain extended to Japan, Thailand, Australia, European countries, all around the World. After a few sentences I "had a job" in Japan.
Then came the present. That is, how we could cooperate already now by establishing a win-win situation. The state of India, he said, puts a 250% tax on all jewels exported to foreign countries. In other words, if they want to supply for example their European stores with goods, their profit is minimized. There is, however, a loophole, where they can go around the tax. Foreign tourists can purchase jewellery in India for up to 35 thousand Euros in value and they can even send it home via post without any tax to be paid. That is, if he sells me jewellery in a value of 10 thousand euros on paper, and I send it via post, and when I get home I decide that I do not need the goods afer all, and hand it back to their jewellery store, than it was basically a "legal" procedure and the goods got abroad without any tax being paid.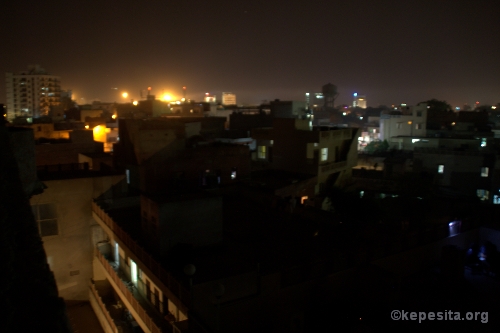 They told me about the details at our meeting next morning.
I collect all the cash I have (and all the money I can take from my bank account in 1-2 days, or the money anybody sends me in cash, which I would not use so it would not get out of my hands) and in that value or a in a little higher value he sells me jewels on paper. We buy insurance for the postal package and then I send the package to Italy. They all pay for this. Then I have to stay with them for 2-3 days because they might call me from customs that I had this amount of money to buy the jewels (for this I need the papers I get from the ATM proving that I took cash). In the meantime I get a hotel room and full board. Then they buy a flight ticket to Italy. I fly there, take the package at the post and then bring it to their local shop, where I sign a paper saying "my family/friends didn't like the present and I want to give it back." Then I get the price of the jewels (that is, the money I was able to present in India will double) and a ticket back to India or almost any other country. I get a hotel room and full board in the meantime.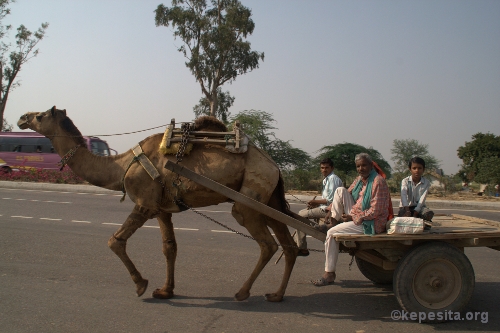 That day I saw several young tourists negotiating with the Boss and leaving the office with a little package. My curiosity (to know how the business works) was more or less satisfied but it seemed more and more that after they told me a little secret, they expect me (understandably) to cooperate, that is, to take part. This was of course not expressly told, but under the "friendly veil" it was to be felt that once you go down this path, you are expected to go it all the way. There is logic in it, as they also take a risk with it.
I need internet for my banking matters? No problem, somebody will take me by motorbike. I am hungry? We shall eat together, in a good mood, among laughs. I want to take photos of the city by night? One of them is building his house nearby and has a beautiful view from the top of the building. I am going to get water? They sell it at the hotel as well…Where am I going? No problem, we can go together, we will arrange it, they will help, as we are friends. And so on. Smiling, but with a tone that excludes refusal.
At the hotel's reception I always saw the same grumpy, man with a dark look on his face. In front of my room, in the door of the room opposite, there was a man, who pretended to just watch TV, but was there all the time. Well, this I didn't really like. It was time to scram (hearing about the corruption of the police I excluded them quite fast). There were bars on the windows, no way down from the roof and the neighboring buildings were too far.
That evening there was a large, friendly dinner, with live tabla music, beer, and for many, a joint on the flat roof of the hotel. I wanted for a while, hoping that there will be change of guards at the reception and "my guard" goes to sleep eventually.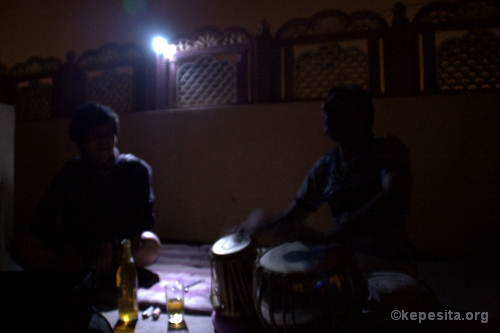 At 3 a.m. I peeked out from my room. The door opposite to my room was closed and there was somebody sleeping at the entrance of the hotel. There was a tightly set rope starting from the door handle but what or who was at the other end, I did not see in the dark.
At 6 I heard noises from outside. By that time I was packed. There was change of guards at the reception, so I thought I would try my luck with checking out. If the new receptionist does not believe that I am involved in the business or that I want to clear off with some jewels, they will let me go.
I also put on a dark look on my face, stepped out of my room and went to the counter. The look I got was not very promising, but I guess mine wasn't either. There were two people there, their eyes met, when I indicated that I would check out. This was the moment when I had to dissipate their suspicion and somehow "prove" that I am a "good kid." I told them that I owed the hotel the price of 2 mineral waters and that I would pay for it. The reply was a puzzled look and then slowly the machinery started to roll, I paid, they took my key and in a few minutes I stepped out the door.
I didn't know what I put my hands into. Whether they were petty criminals or a larger "organization". I did not believe that they would start looking for me but still, I decided to disappear for a few days. There was only one place I could go to without being asked for my passport and all my data and this was Delhi (they ask for your passport not just in hotels but also in internet cafes and so one can be tracked all over).
I called Lucky, I told him I would come and why I would come. "Why didn't you tell me? We would have taken apart the whole jewellery gang! Whether you can come? You are family…"
   translated by Szegi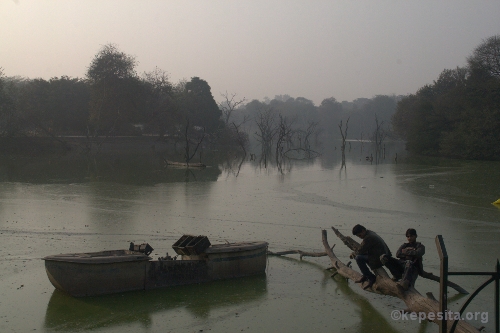 Categories: English, India, by Peter

0

/