Shopping Cart
Your Cart is Empty
There was an error with PayPal
Click here to try again
Thank you for your business!
You should be receiving an order confirmation from Paypal shortly.
Exit Shopping Cart
| | |
| --- | --- |
| Posted on October 12, 2010 at 12:25 AM | |
Luck accompanied me and I was able to get out of the capital city quite easily. I went southwards with smaller rides. Even though I was in another state, it seemed that the row of apartment houses and merchant stands would never end.
In the end I could see the first signs of agriculture in the cabin of a rusty truck that was enforced by wood sticks. The truck stopped ca. 40 kilometers from Agra and its driver persistently helped me in getting a new ride.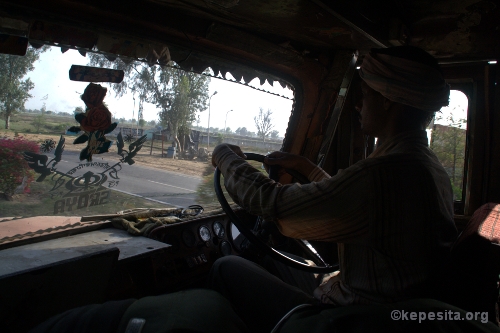 I arrived in Agra in the evening, I took a 5-dollar room and then I joined a small couchsurfing meeting: two American drummer guys, a Spanish photographer, Lusy, and Rajat from India. The drummers moved on that night but I had the chance to meet Rajat and Lusy several times in the days to come.
The day after I moved to the nearby hotel of a small square near the Taj Mahal, where Lusy also had her room. The "Marble Palace of Love" was closed that day so I walked around the city and we went down with Lusy to the riverbank, from where there was a wonderful view on the Taj. 
We/I spent hours sitting on the flat roof of our hotel in the restaurant every day. Due to Rajat's military background, you could sense no fear in the eyes of the former sniper. In the evenings, in the company of some beers, he talked about the Rajat of yesterday, today and tomorrow. Lusy's photo project presenting state borders as bridges rhymes wonderfully with the sensitivity and a stable hand of a photographer that is necessary for documentation – two virtues that are both to be found in this Spanish woman.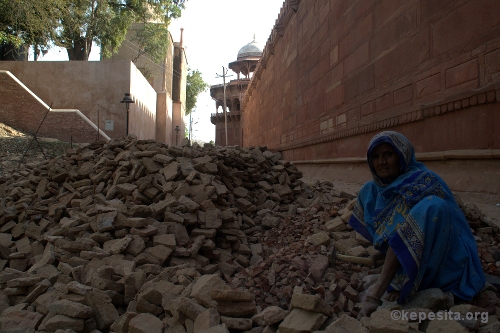 On the little square below us, life went on as a miniature of India, producing the main characteristics of the country within just a few square meters.
On the little square 5-6 little streets meet. In the middle there is a part behind a fence, where motorbikes, bicycles park, and rickshaws are around them. Sometimes a cow walks by, throws itself on the ground with a comfortable carelessness and ruminates for a while. Around, little stores and hotels come after another. Muslim veils, Hindu "third eye" dots, red, sunburned tourist necks come and go amongst the bikes, motorbikes, rickshaws, carriages, or even large vehicles. Sometimes stray dogs, monkeys, cows, or occasionally even camels and donkeys turn up. There was almost no day without a wedding group marching through the square.
The 10-12 year old child, who replaces his parents, is surprisingly tough when selling the products of the little store as a "big boss", with English "marketing phrases".
From the little hotel only the children of the owner attend school. The two children of the "manager" know not about the weekend as they run there and back between the restaurant and the kitchen, rent out rooms, clean, give and take money – all of these with a good knowledge of English and with lots of kindness. But they can't read or write.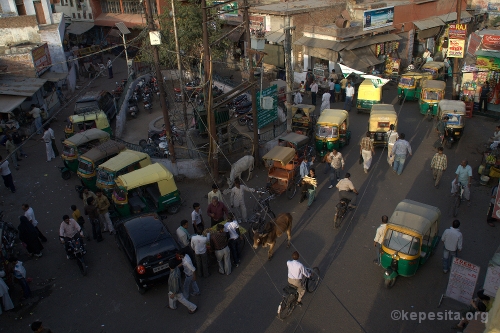 The greatest adversaries of the idyllic scene of the roof restaurant are the monkeys that occasionally turn up. As a result of our colonization and deforestation, by now monkeys don't (just) eat from trees anymore, but go to the city (changing their gathering lifestyle to a life of thievery) and search for everything that looks edible, is colorful, sweet, or just...important for the tourist, who is less at home at the scene.
Only 3 pages were left from the book I was reading but I set it aside to eat my lunch. In a few minutes, with a full tummy, I laid back in my chair contentedly, when my head-scratching relative suddenly appeared out of the blue and jumped on my table. I grumbled at him, and received a fierce snarl as a reply. As we stared each other down, two things crossed my mind. It is very likely that I would come out as the victor of such a fight. But at what cost? As even the slightest scratch, bite would mean that I would have to go to a treatment against rabies that would last weeks and you can surely not survive a fight without an injury where your adversary is much faster and can attack from any direction given its Tarzan-like abilities. In the end I took a plastic chair and using that as a shield/attacking fist, tried to defend the contents of my table. The little, snarling thief jumped from the table and galloped beside me on my right side. His retreat wasn't convincing and so I turned after him so as to avoid an attack from the rear. A couple sat a few tables away and apparently they did not appreciate the result of the fight. Therefore I shepherded my adversary to the end of the terrace, from where, unluckily, there was no way out, even with a jumping capacity of Tarzan. The cornered animal jumped on the bars of the terrace and then, ran back, again on my right side, to my table. I couldn't reach him because between us stood the confused lady and the gentleman, who seemed calmer than her.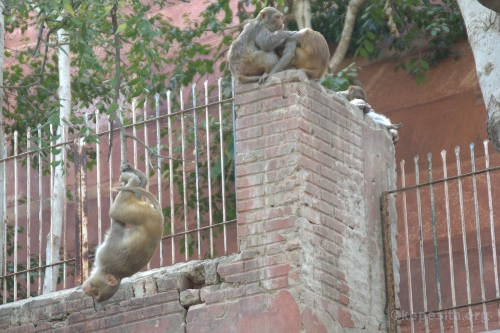 My book-lover adversary took "John Irving", had a look at the book owner shouting and running towards him from the other end of the terrace with a plastic chair in his hand (this would be me) and then, with a few jumps, landed on the neighboring roof that was above ours. He sat down and started to chew on his ink-spiced lunch.
I took the multifunctional tool, which I have up to now only been using as a shield and as an attacking fist, and placed it close to the wall so I could stand on it to climb up to the reading section. When you are climbing a wall, there are moments when both of your hands are in use and your legs don't touch anything, so effectively you are pulling yourself up. I believe that in the military these moments are mentioned as unguarded or vulnerable.
My eyes already reached the horizon of the roof and I could see the hairy bookworm, but then suddenly reinforcement arrived, and not on my side. Another monkey started to run at me with a snarl. I quickly acknowledged that with a single head I would not get very far here so I chose to retreat. I tried to present my landing as the "happy end" of a controlled jump, but it is not very likely that I was able to convince the young couple, who served as my audience.
But then my little waiter friend appeared with a huge wooden stick. He shouted, stroke with it, appeared on the other roof with a few moves, took what was left of the book, came back to our roof and gave me the remaining pages with a grin. And the last three pages were among them!
A recurring and somewhat spooky figure of my stay in Agra was a Japanese guy. One day we motorbiked with Rajat around the city and after a while it became apparent that this guy basically moves along the same route as we do. We met at Baby-Taj, then at an intersection, then at the riverbank and finally in a small restaurant at the other end of the city – by that time we greeted each other with a laugh. And this went on for days. We had some accidental encounters every day.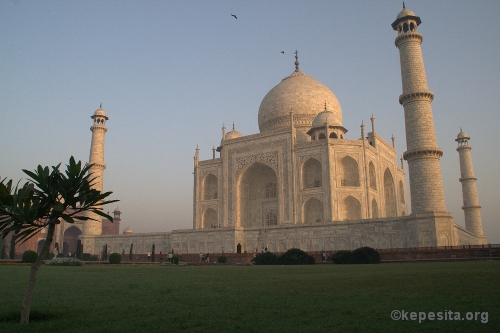 Even though I was there at the eastern gate of the Taj Mahal already when it opened at dawn, there was already a long queue. No worries. I was in the home stretch, to touch the white marble miracle that was built by love (an a few thousand "slaves).
If you dream about something for years, you are easily disappointed when achieving it; you finally see a building that you had imagined based on a few photographs. Well, nothing of this here. I wandered around it for hours, not being able to get enough of its beauty.
At the small and poor little museum part I chatted up a Danish girl, Malaika. She has been to India eleven times but this was her first time at the Taj Mahal, about which it is said that once you see it, you don't get back to India ever again. Well, seeing Malaika's passionate love for India, in her case I doubt this. We had a long talk that day and the day after we set out together to find the desolate place of nearby Fatehpur Sikri (the former capital of the Mogul Empire).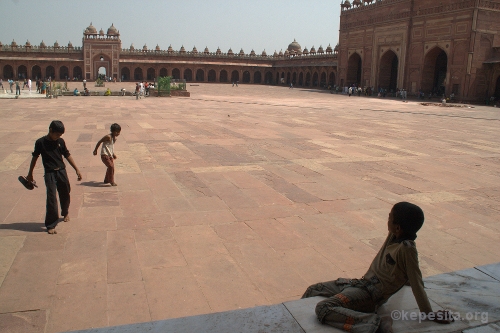 The ghost town was everything but spooky. There are a lot of tourists, merchants and pilgrims visiting the uninhabited walls, buildings. You only need to pay at one place, but there they ask for a considerable amount so we decided to "refrain from" paying it, after having already paid for the Taj Mahal. We started a walk at the city walls, hoping that perhaps we can climb in somewhere or at least take a peak in the inner part. We weren't successful, but when having reached the exit, the guards let us in after a desperate grin on our face and the sentence "haven't you found a little, blue bag?".
Malaika traveled forth that evening by train. I stayed for one more day and then set out westwards  in order to have a glimpse of the desert-and-camel world of Rajasthan.
translated by Szegi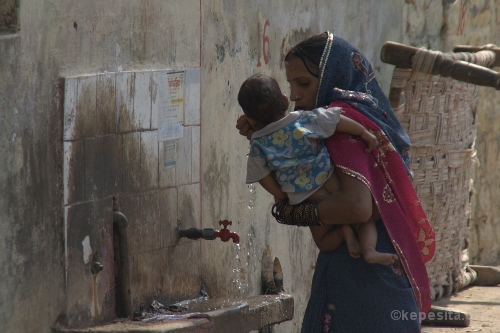 Categories: English, India, by Peter

0

/