Shopping Cart
Your Cart is Empty
There was an error with PayPal
Click here to try again
Thank you for your business!
You should be receiving an order confirmation from Paypal shortly.
Exit Shopping Cart
| | |
| --- | --- |
| Posted on October 10, 2010 at 12:00 PM | |
Lucky's door has always been open and various kinds of people have entered through from time to time. Sitting and working in the big bed's corner, I started off as an observer but later on I became part of one piece of the city-life.
According to different descriptions of India it is poverty, the lack of education and corruption that are the country's major problems. It is also talked about how India's has one of the worlds highest economic growth rates..
All these things -no matter it's the capital- can be experienced in Delhi, too. The gap between those living beneath minimal standard of life and people of upper castes seems to be irreconcilable. In other words, I'm not sure that most people who never question their place in the world (be it religious or any other aspect) would like to resolve it. Of course, it wouldn't be in the interest of the members of higher layers. Now, in this situation, benefits generated by the poor that work fall to them. These are the ones that will benefit off of India's dramatic development. The lack of education -in certain ways- amplifies the connection to the religions based on ancient traditions.
I got to know a "landowner". On the land he owns there are new buildings (that he lets to people of high status) and a section rent by poor people as well. One can see the installation of new buildings, fine relationship with those in upper class, free food and drinks for the poor when fasting is over, but not one school is being built, nor is the infrastructure of the garage-like "apartments" developing. The image of "the benevolent and caring Sir"is being maintained by giving free food, however, there are no steps taken for the future.
Many beggars do their job for "a boss" - just like in numerous other countries. Generally it seems that these peopled don't have much choice, seems more that they are being forced. Unfortunately, I didn't get to meet the boss, only his friend who "I should know about" knows the beggars' boss.
They care a lot about the safety of the places visited by the rich and by tourists. In shopping malls, at tourist sights, security guards and metal detectors make you want to believe that the leadership controls the situation. However, when paranoia and the enthusiastic will of making changes turn into routine, then it becomes mere scenery. Many times I got through these check-points with a knife accidentally left in my camera-case.
Police is quite present in the capital, but apparently, speeding or drunken driving and the accidents resulting from them "exceed their powers". Corruption is present, without trying to conceal it. It's part of the daily life, I'm the only one that's surprised by anything.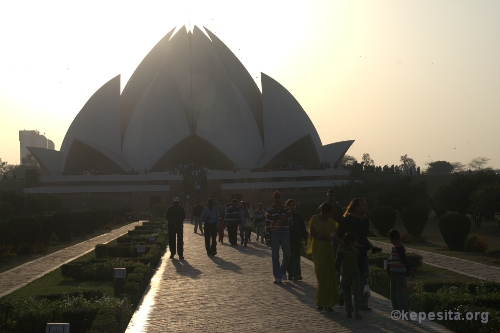 The various drugs form part of the daily life, too, and much more openly than elsewhere. It can be "purchased" in pharmacies, from fluid opium and the smokeable crops of the valley of the Himalayas, to the stationeries' glue-like product (which is inhaled from nylon bags).
Though there are ambitions towards a cleaner capital, apparently it will be long until serious changes are made. Poor people cannot afford to buy decent quantity of washing powder, they buy it in bags of a few grams, day by day, if they have any money at all. The various, mainly salted snacks have ridiculously little in them compared to the size of the bag. Although these packages are filled only 2/3 in Europe as well, in India it is downright silly and of course contributing to the ever growing mountains of waste.
I met some "big guys" during the course of my stay. Kings of real estate, entrepreneurs keeping politicians' secrets, fancy representatives of the Indian world of fashion, people working at an embassy. I met women who were sleeping their way up the career ladder. I was introduced to a man as the man who can get the right of footage in every situation. Dress-shows, reception for the founding (with the help of the minister, of course) of a new internet company that involves thousands of other companies. As the only foreigner, I was invited to the wedding of a young man who belongs to one of Delhi's richest families.
This kind of world is everywhere. But I have never seen this happen in this unconcealed way.
I, as a rookie, was led by friendly hands in all these meetings, places. Thanks to this and to other relationships that I encountered, I got to see that even the "highest class" might involve selflessness, friendly gestures, strong bonds that do not know status and financial background.
I was invited to a play. I knew a girl who works there and I asked her to help me make some footage during the play. She didn't help but I took my camera anyway. I got through the security guards without a problem. But the auditorium had cameras everywhere. I didn't have time to get sad. The media showed up. Professional cameramen and photographers invaded the hall. I took everything I had and that had anything to do with cameras, and, trying to seem really important, amongst the guards I got to the DJ set. There, I spectacularly took some pictures of the workers of the theater. After this -i.e. I got labelled as a media guy- I could easily move around.
Rumor has it, mainly in the capital, that there is a thing called marriage for love. If it happens in the country, it sometimes ends with death (family revenge). The most frequent type is still the marriage because of status and money. I was invited to the wedding where the fiancé was from another one of Delhi's richest families. I knew his elder brother.
The engagement party was on a Wednesday and the wedding itself took place the day after. Entering the place of the engagement party, two things came to my mind. If they celebrate engagement like that, then what will the wedding be like? Second, if a rich Indian celebrates like that, how did the kings celebrate?
There were three vast parts, all of them separated from each other. One of them was a covered tent. More than a thousand guests, food and drinks whose quantity couldn't be guessed, and scenery that would have made rococo look like homogeneous simplicity.
Surprisingly, the engagement party took place without the bride.
Unfortunately, as the only foreigner, extreme attention was focused on me. Anywhere I walked, I got asked/forced to take photos, not comprehending me saying I'm not from the media. Even more often was I asked/forced to tables to clink glasses with them. The drinking took place in the non-vegetarian part of the tent. Sometimes guns were fired (enthusiastic criminals did that out of pure joy). During the evening only one accident happened: a lost bullet got stopped in the leg of the main organizer.
For the wedding, an even bigger area was prepared as a proof of the family's wealth and the event's importance. The groom turned up on a horse drawn vehicle, surrounded by drummers, dancing guests and lamps held by people. The bride was waiting for her mate in the gate. Then, in the middle of smaller rituals and incenses, they marched in the "throne". From there they went to have some pictures taken. Finally, they were led among old people under and arched hall and other rituals made the bond that was born that day even stronger.
I participated in a little "pre-Holi" party on a day before the celebration of Holi. The landowner pitched an immense tent on a parking lot. After some musical performances, he offered the guests food and drinks. Outside the tent one could even get beer. Three friends of mine and myself, we found an empty rickshaw parking right there. We sought protection against the Sun under its roof. Kids were patrolling the parking place looking for empty bottles. A little one with torn clothes stepped right next to me and started to stare at my bottle of beer in a rather impatient manner. I still had plenty left. Nonetheless, I had a big draught. I didn't empty it but I didn't even have time to pull it away from my mouth. He reached towards the bottle that hit my teeth. I turned very mad and shouted at him, emptied the bottle and gave it to him. Who am I to shout at him?!
The celebration of Holi turned out to be one of the most memorable festivals of my life. For just one day, differences in castes seem to vanish, water balloons filled with colored water were flying everywhere, full buckets were being emptied, everyone was smiling at each other. People used colorful powder and fluids on each other. We went to see an outdoor party. Colorful motorcyclists drove next to us as we were sitting in the rickshaw; "rainbow-skinned", smiling pedestrians celebrated in the streets.
We got as far as 200 meters from our place and we were wondering why no water balloons flew over our heads. Then suddenly a boy showed up running from an alley. I was pretty lucky, I got painted only in my face and head. But Lucky -withdrawing while laughing hard- threw his phone to me, just in time before it could have got shot by the colored water of the bucket.
We met a couple of friends and then we went to that outdoor celebration. Reaching the gate I was pretty "fine", thanks to a bottle of Brazilian alcohol. Inside the fences, I was greeted by different kinds of music, a pool, an outdoor shower and many colorful, happy faces. The atmosphere was just great, I'll never forget it.
The day of Holi is the outstanding (but magnifying) example of the characteristics that when people see and experience, they fall in love with the Indian culture. Here, there is no such thing as black and white. The bright-colored, mostly women-worn dresses decorate the streets all the time. The openness of the rickshaws let you have a glimpse from a surprisingly close distance, of the traffic and the world of sounds of honks. Mosques, Hindu temples and sacred places, the poorest people, the "Sirs", stray dogs and cows walking in the middle of the streets in a very comfortably way, the trash and the plenty tourists are all parts of India's world that is rich in colors, faith, faces, privation and gold. It strikes and absorbs me.
translated by Agoston Galambos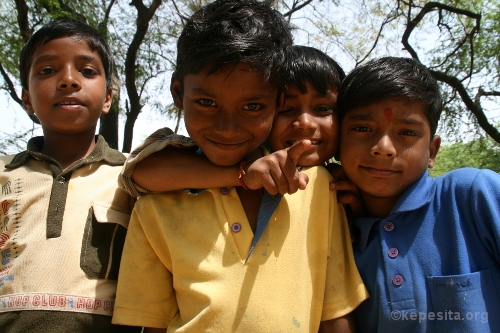 Categories: English, India, by Peter

0

/