Shopping Cart
Your Cart is Empty
There was an error with PayPal
Click here to try again
Thank you for your business!
You should be receiving an order confirmation from Paypal shortly.
Exit Shopping Cart
| | |
| --- | --- |
| Posted on September 15, 2010 at 9:10 AM | |
Day 202.
A minivan stopped. The two men inside were heading to Delhi. I made the mistake –in a rather self-pitying way- of telling them the story of my wallet. From the not too smooth communication I could figure out that they were driving passengers from the capital airport to Jalandhar, and now they were heading back home. Slowly, it became clear to me that the genlteman sitting in the front seat was a passenger, too – a paying passenger. In other words, the taxi was taxi on the way back, too. Soon the car got loaded. However, the driver didn't take any money from me, though I told him I had it. Moreover, approaching the capital he even invited me to his house.
I believe that if I hadn't told him about the wallet our relationship would have been less friendly. However, you could almost touch the pity in the air. "I'm not rich but I would like you to stay at my place for this night." I felt really ashamed.
This man lives with his young wife and his brother in a small roof apartment. The minivan taxi service was run as a family entreprise. One drive usually takes 24 hours. A brief night and morning at home, then another one and a half day far away, not knowing the concept of weekend.
We got to Delhi late at night. His wife made us a delicious dinner. I was a little bit tired, he was truly and rightly exhausted. We were staring at the tv, then we went to sleep.
Day 203.
We got up early. They both crouched on the bed I was sleeping in. We were drinking tea and smoking biri (tobacco wrapped in a leaf). An old water pipe was found, laughing hard we tried to put the biris in it. A couple of guys from the neighbourhood showed up.
I was given two, egg-sized dumplings on a small plate. Being sweet, rich and made of a thousand ingredients, I could hardly eat the dumplings, no matter how much I liked them. Then they asked if I was ready for breakfast. Catching glimpse of my "wasn't it the breakfast?" face, we burst out once again laughing.
The sun was high in the sky when I took a rickshaw ride and I was now heading to my couchsurfer host's place.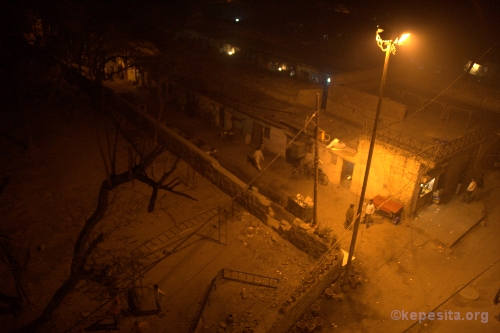 A few days later, when I already had already got my new credit card, I arranged a meeting with the young couple. I was pretty sure they wouldn't accept money from me this time either, but –as the meeting was going to be at their place- I could have hidden the money for the ride somewhere in the apartment. However, the night before I had a vomiting incident that made me call off the early morning visit, and I couldn't make another arrangement. I lost both their address and phone number.
The rickshaw dropped me off at a corner, a junction point of a park and the network of numerous apartments. Coming from the park and apartments, the wind brought the smell of trash and faeces. Heading upwards in the stairhall the smell got weaker and weaker, until it was totally gone on the topmost floor.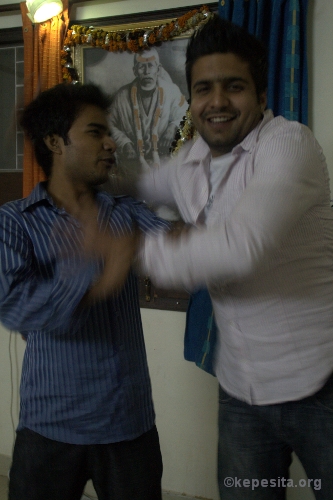 I entered a ca. 20 metres square room. I was greeted by 6-7 people, I didn't even know who the host was. Some of them were leaning over their laptops, the others were chatting, loudly commening on the "adventures" of their computer user fellows. Back then, I didn't even have the slightest thought this poorly arranged room was going to be my home for weeks.
A big frenchbed, two mattresses, a closet and a tv in the corner. Two entrances and a smaller door opening in to the bathroom. The picture of Bob Marley and that of Sai Baba (guru) on the wall. Loud trance music, wifi internet waves in the air. After showering I settled down in a corner and challenged the first Iranian blog. At 3 am. it was already uploaded on the net. People in the room were still awake when I wrapped the blanket around me and closed my eyes. I stayed like this only for a few seconds. Lucky woke me up – we're going to Rishikesh! Filled with lots of enthusiasm, they got back from a party. Soon we packed some stuff and the five of us got in a car and we headed to the sacred place in the Himalaya, along the Ganges, a few hundred kilometers away.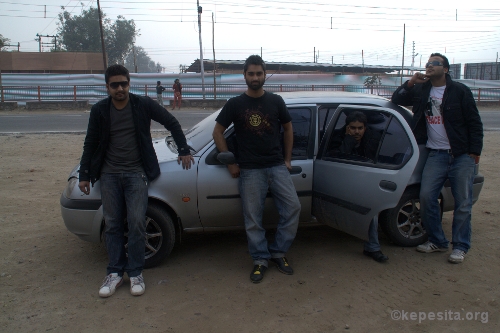 This wasn't our last trip to the Indian part of the Himalaya, nor was it the most memorable one. In the following blogs I'll write a lot about this sacred place and the time I spent with Lucky and his friends.

 

Getting back to Delhi I conquered the corner again and wouldn't leave it for the next two weeks. In the basement of the building there was a kitchen where I would eat three times a day. It was pretty cheap. The guys invited me to many places but in the first 10-12 days I didn't go out much, in my mind I was still in Iran. They respected this, which I am really thankful for.




During the days, weeks spent at their place I wrote the Iranian and Pakistani blogs, made two short films and some photo album. After a while I tasted life of the capital, too. Lucky and Archit, with much enthusiasm, showed me all the sights, but I was also shown around in their daily lives.




Categories: English, India, by Peter

0

/