Shopping Cart
Your Cart is Empty
There was an error with PayPal
Click here to try again
Thank you for your business!
You should be receiving an order confirmation from Paypal shortly.
Exit Shopping Cart
| | |
| --- | --- |
| Posted on August 24, 2010 at 2:40 AM | |
Day 200.
   It was in Amritsar when I first realized that when looking at a map of India, what seem to be small towns judging by the size of the dots on the map, they are in fact huge cities with heavy traffic. Countless colorful rickshaws, motorcycles, carts, cars, bicycles, pedestrians crowd the streets and bring the noise. The sky is as vivid as the bustle below. Thousands of kites are fighting, going in a zigzag way above the city, and the cut kites, losers in the game of kite dogfights are decorating trees and almost unapproachable spots. People at the other end of the string occupy not only the roofs but also the odd patch that opens up in the streets for a brief moment.
   Not once did I run into guide posts, cables or strings wound around trees. After a fairly long walk and a shorter rickshaw ride I got to the Golden Temple. Taking off my shoes and backpack, with a hat on my head I entered the gate of the building complex that hid a lake inside. In the middle of the lake stood the golden temple, connecting to its white environs with a narrow bridge packed with people pushing through the crowd.
   Some people got washed in the sacred water, others were just sitting on the bank and I saw some who even here got lost in the joy of flying kites, watching the sky while grabbing the strings.
   It was already dark when I reached the edge of the city. A couple of folks stopped by me, trying to talk me out of hitch-hiking, by stating it's dangerous, especially in this dark. I was about the set out to look for lodging when a young guy stopped and took me to the city of Jalandhar. I was dropped off at a pretty cheap hotel.
Day 201.
   I bought an Indian SIM-card, had breakfast at a street vendor, and, after a half-hour of surfing on the Internet, I took a rickshaw ride. There was at least ten of us squeezing on the vehicle. Here and there arms and legs were sticking out of the metal machine. I got off upon reaching the junction where I intended to hitch-hike. I payed from my hip pocket. With a pretty routine move I reached to another pocket that had my wallet. Well, it had had it before. My second automatic reaction was running after the rickshaw. However, soon I lost it because of the street mass.
   Opening my side-pocket requires at least three moves. Fastening two poppers, folding up the material covering the pocket, and pulling the zip hidden under beneath. Of course, it's possible that it wasn't stolen but I lost it. However, over the last couple of months I developed a certain automatic attention and some habitual moves serving as permanent check, and these made the chance of simply losing my stuff look very slight.
   I went back to the Internet cafe. The two young gentlemen working there were really helpful. Relaxed as one with no hope, we visited the cell phone store and the small buffet where I had breakfast that day. Thanks to my friend Benjo, my credit card got stopped in a couple of minutes. Kenneth came to my help at once, too. Thus, in a few hours I had enough money for like a month.
   Though I wasn't too optimistic, I went to the local police station. The ruined, poorly-lit, one-storey building stood at a dark spot of the square. A gentleman (the police officer) was sitting on the terrace. Ha made me write down what had happened and what my wallet had contained. He read it through, then after a content nodding he put the paper in the drawer. When I told him I needed an official police document of the case, he took one of the copies out of the drawer, stamped and signed it and gave it to me.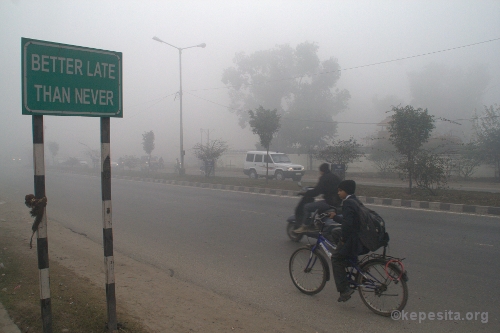 On the Internet, in a Delhi-forum, I was enquiring about a place where I could stay for 1-2 weeks and work on the missing Iranian blogs. The couchsurfer Lucky did not recommend a cheap accomodation but he offered his apartment where there was even access to the Internet.
   After the wallet-incident I sent him a message asking not to wait for me that day as I got stuck in Jalandhar. As an answer, my phone started to ring. It turned out he'd just left Jalandhar from where he had to take a car to the capitol. If I had texted him earlier, he could have picked me up.
   Before I started to think too hard about if I had texted him a few hours earlier, not only would I be on my way to Delhi, directly to my new host's place but I would also have my wallet… well, to avoid thinking of that, I immersed in reading.
Day 202.
   I aimed once again at the crossing that was on the edge of the town. However, getting there I still had to wander for a while in order to find a good place for hitching. It seemed to me that the line of rickshaws and motorcycles seperating the edge of the road and the big vehicles would never end. Eventually I got on a bus heading to Delhi and I travelled kilometres until the edge of Jalandhar (from a hitch-hikers perspective).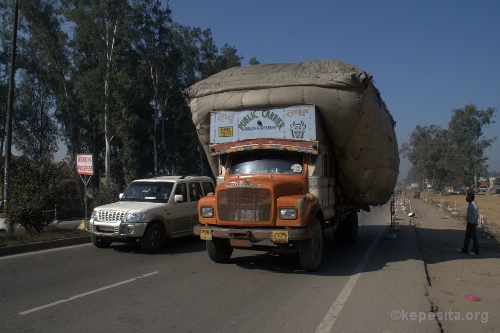 I was talking to a Sikh, an old gentleman, when this middle-aged guy came to us on a motorcycle. I was trying to explain hitch-hiking, as my "current activity". With not much success. Or so I thought, next thing that happened the motorcycle gentleman offered to give me a ride.
   During the journey, he turned back his head and asked something. I said I'm sorry, I don't speak Hindi. He put his closed fingers to his mouth. I said thank you, I'm not hungry and I, too have food in my backpack. He repeated the gesture. I repeated my answer as well. For the third time, he put his fingers to his mouth, saying a word and making another gesture. The word was "homo" and he made the move with his bottom (being on a motorcycle, we sat pretty close to each other). After the refusal, the offer was repeated a couple of times again. We reached the crossing, I got off, thanked him for the ride and I moved on looking for another hitch-hiking spot.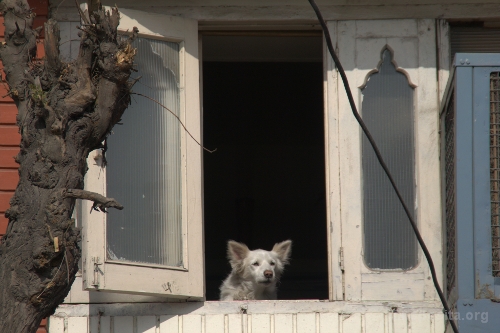 Categories: English, India, by Peter

0

/