Shopping Cart
Your Cart is Empty
There was an error with PayPal
Click here to try again
Thank you for your business!
You should be receiving an order confirmation from Paypal shortly.
Exit Shopping Cart
| | |
| --- | --- |
| Posted on July 24, 2010 at 10:25 AM | |
Days 199-200
   We arrived at the border just in time. We were the last ones who crossed it that day from Pakistan to India, so we had the opportunity to see the famous border-closing procedure from the other side. The grandstand was full of people chanting "Hindustan". On the Pakistan side there were less people, maybe 200 at the most.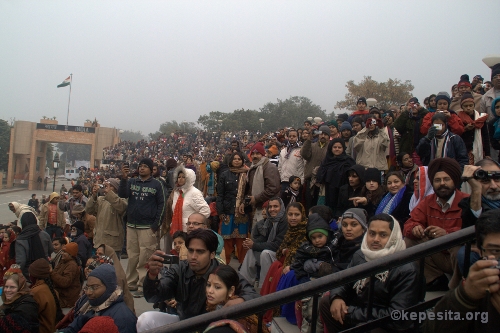 The ceremony seemed to be a recited rivalry between the two sides, giving the proper respect to each other. Soldiers from both sides were marching fast towards each other, their legs swinging high. Sometimes when the gates were open, they would almost touch each other before they stopped, then stamping hard to the ground and turning around. One officer was animating the crowd by singing and shouting, while the guards (standing quite close to each other) were trying to keep the enthusiasm on the stand. They seemed to be doing a good job.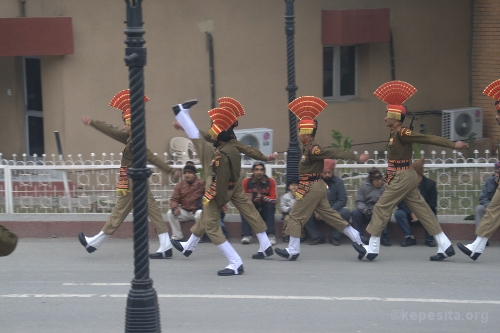 We talked to a girl who had been studying in Pakistan for months. She was also en her way to travel in India. She was the one who mentioned the Golden Temple in Amritsar, where you can find hot shower and accommodation.
   By the time we were far enough from the border to be able to hitch-hike, it was already dark. We were standing near a tiny little village. There were no lights and no traffic, plus, hitchhiking as we know it in Europe or America is not very common in India, there are very few people who know the concept the way we do. Joe didn't have much time left before he had to go back to Norway, so we said good-bye and he caught a bus for Amritsar.
   I didn't want to wait any longer either, so I started to walk towards the village to ask about some camp sites. On my way I came by a small Sikh temple. There seemed to have been some work done on the facade very recently, the colorful paint almost looked like it was still wet. A small group of people started to gather on the square. Some were openly excited and some trying to hide their suspicion. I tried to show them that I had a tent and that all I wanted was a place to put it up. If they would let me. It didn't take long before a gentleman came over with some sort of wooden contraption that turned out to be a bed. He put it up in the temple for me to use.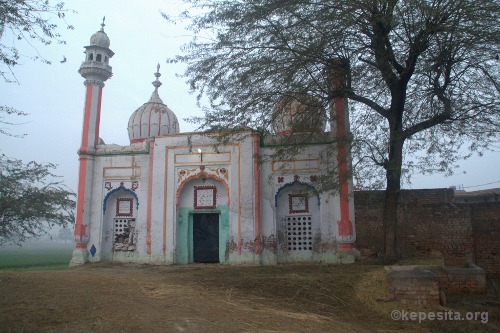 Then a boy came. He could speak a little English so he started to control the scene. He told me to follow cause I'm gonna sleep at his place. I tried to give the bed back to the owner, but they didn't let me bother with that, they started pulling my arm suggesting that it was no problem, they would take care of it.
   First we went to one of his friend where I was offered a nice meal, then we walked to his place. The elder people liked sports, they were telling stories about their former achievements in soccer and other disciplines. All while sitting in a room decorated with pictures of Sikh gurus. I had the chance to meet his father. He was was the doctor serving the village and the surrounding areas.
   It turned out, that there was a small festival in the neighbourhood that day. A small band was playing music under a tent roof, the audience was sitting in an L-shape on the sides, covered with blankets to the hips. We were sipping hot tea, watching the musicians hiding in their foggy breath, listening to their rhythmic melody and passionate songs.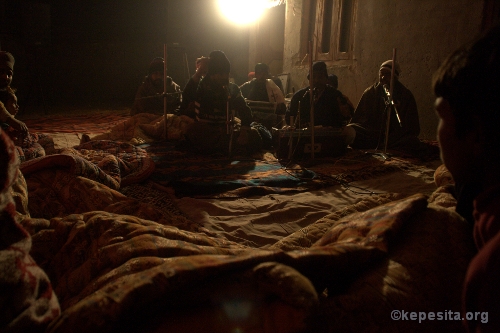 Early next morning they woke us up with some hot tea. Feeling refreshed, the guys suggested to take a walk. We walked out of the town, crossed the road and entered the fields. One of them ran into the middle of the field laughing, took his trousers off, sat on his heels and took a shit. The others were roaring with laughter, asking wether we have outdoor toilets too? I said that I never saw this praxis in Hungary before, but it's not impossible that we also have it. Shortly, all the boys disappeared, one after the other, scattered in the fields. Although I tried to prepare my body for this new experience, it wasn't ready to follow them yet. So I was walking alone on the road, didn't know, where to look. After we returned to the house, they hurried to show me the way to the toilet. They was a bit confused, I guess, when they realised, I don't wanna use it either. If you don't have to go, you don't have to go.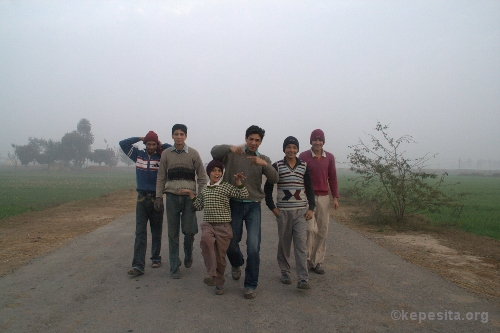 The morning "walk" was over but the breakfast time hadn't arrived yet. The village was getting ready to "take off". The youngsters and some of the elder ones climbed up to the flat roofs. There they prepared their kites and let them fly.started to fly A battle began was about to begin. My kite escaped from the frontline, but then decided to pick some fruits and get tangled in a tree. I was just demonstrated my skills. After each victory – that means somebody succeeded to cut an other kite's string with his own kite -, the winner's roof started to cheer. But the loosers never give up. They made faces and call new soldiers into the battle.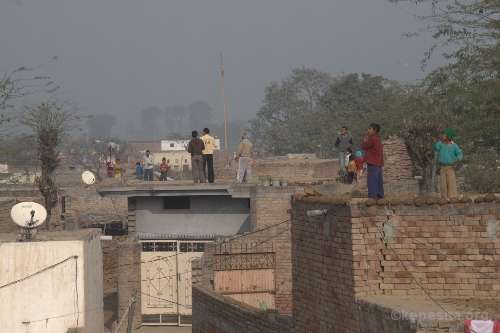 Meanwhile, the mother and the daughter prepared some food on the small oven in the yard. It seemed that the activities in the kitchen occupied their whole day. The guys ate just a little, then they all took off from the makeshift "breakfast bed" that was put out in the yard. I packed my things and wanted to say good-bye but I couldn't find them. This was the moment when I realised that the young girl, who was just helping around her mother and sometimes smiled, could also speak English. She told me where I could find the boys. I expressed my thanks for their hospitality, then walked out to the fields where the boys were reaping grass for the cows. Boys working, their father supervising. Much obliged, I told them and went on my way.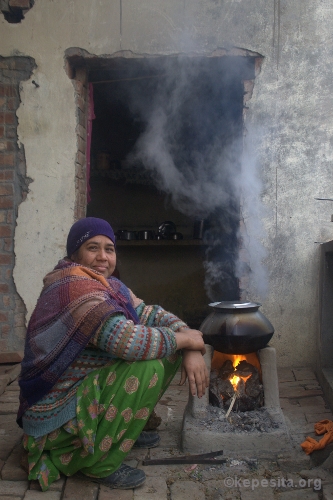 I had had a long walk down the road when a man on a motorcycle stopped next to me. One minute later I was sitting behind him. We weren't exactly streamlined, with me carrying that huge backpack on the back, trying to ballance, but I was sitting on two wheels, approaching towards Amritsar.
   In Pakistan I already decided that if I came over to India my first destination would be Delhi, so that I can catch up with my blog entries that I had to postpone in Iran because of safety reasons. But was that really the reason why I didn't help the boys reaping grass?
Translated by Eva Ruppert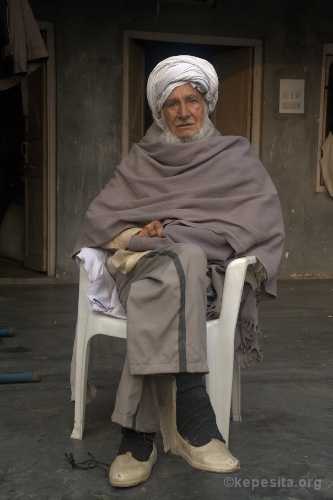 Categories: English, India, by Peter

0

/