Shopping Cart
Your Cart is Empty
There was an error with PayPal
Click here to try again
Thank you for your business!
You should be receiving an order confirmation from Paypal shortly.
Exit Shopping Cart
| | |
| --- | --- |
| Posted on March 31, 2010 at 5:10 AM | |
   It was still during my stay in Tehran that I got a message from a friend of mine, whom I got to know in Turkey. He was hosting a Norwegian guy at the time, who came from the town where I had worked for years. Jogeir (henceforth: Joe) was on his way to India. When we arrived in Tehran we met and decided that we will travel together through Pakistan (and partly trough Iran as well).
   Joe set out with a friend of his from Norway onboard a veteran Mercedes that - having heard of their travel plans – a Norwegian gentleman offered them. The car survived until Istanbul. From there the two friends travelled together and then in Eastern Turkey they parted. From then on Joe either hitch-hiked, took a bus, a train, or walked. He travelled through the Kurdish part of Iraq and from there he came to Iran. As an enthusiastic musician his travel companions are his guitar and the Bolivian charango. After having spent a year in South America, now, 19 years of age, he decided to suspend his music studies and get on the road.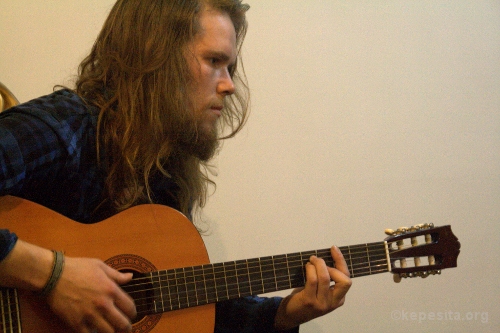 We left the capital of Iran together. We hitch-hiked to the city of Qom, which is known as one of the largest Shiite centres. We spent Christmas in the company of a young man and his friends, who just started breeding sheep at the outskirts of the city of Kashan. We sat around a small wooden structure that was covered by thick blankets and contained a small electric heater. If we put our legs under the blankets our blood did the job to spread the warmth around in our body. The Christmas tree was made up of a piece from the bush with a few ad hoc ornaments and the photo of Joe's girlfriend. And the atmosphere was made up of music, singing, dancing and a lot of laughter.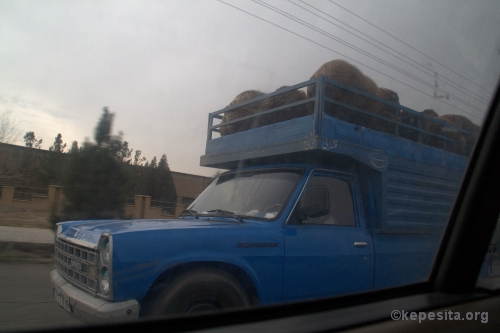 After Kashan Joe travelled on towards Esfahan and I went on to Yazd.
   In Tehran I met a Dutch guy at the Embassy of India, who was on his way to Australia with his wife and a three-year-old child onboard a camper van. (http://www.pipitravels.com/). From him I got the info that one of the hotels in the city of Bam in Iran has become a meeting point in the past few years for those, who are on their way towards the East with cars, mini vans, camper vans. They wait for each other and then carry on as a convoy through the more dangerous, South-eastern part of Iran (Beludzhistan) and Pakistan. The semblance of hope appeared that instead of the originally planned train route to Pakistan we would be able to hitch-hike our way to Pakistan.
   We agreed with Joe that we would meet in Bam.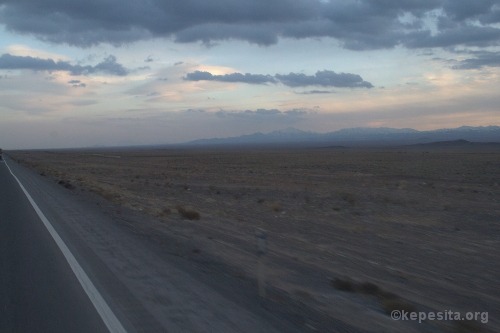 Days 181-182
   I arrived in Yazd in the evening. I went towards the train station so that we could find each other easily with my friend from Tehran, who was about to arrive the next day by train. I asked a man standing in the door of a shop that was still open, where I would find the station. "I am about to close the store; I'll take you," he said. When I asked him whether he knew a cheap hotel close to the station, M said laughing, "No, no hotel, you will come to me. It is no problem, my wife went to the capital." This is how I was able to get acquainted with a Zoroastrian family.
   First we went to his parents. They received us kindly and asked us to stay for dinner, as well. They showed me one of the gathering places for Zoroastrians, a fire temple where they preserve the sacred fire. This ancient Persian religion does not have many followers in the World anymore. In Yazd its followers live in a separate little town. Although they are open towards other religions, for example they do not oppose marriage with Muslims, Islam shuts itself from them.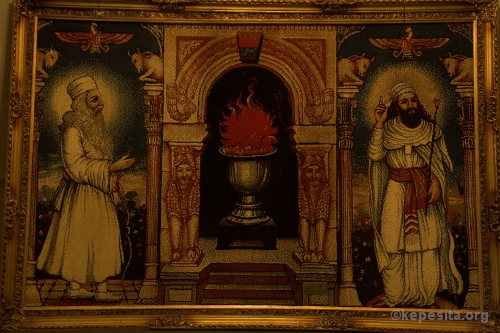 We had a long conversation in the modern flat of M.
   The next day I met Ajo, who went back to her parents together with her fiancée. Her parents offered me to stay in one of their houses, which was on sale.
  When I entered the little garden that was hidden behind a high wall, the door of a beautiful villa opened up before me, with a lot of rooms and stuccoed ornaments having a whole variety of colours - and the whole building was empty. I spent hours wandering in this sand-coloured part of Yazd, enchanted by the little houses hidden behind the walls, which I could only sight for seconds when the doors opened. Although it all seems really isolated, these quarters – which are very typical in Iran - have nevertheless a friendly atmosphere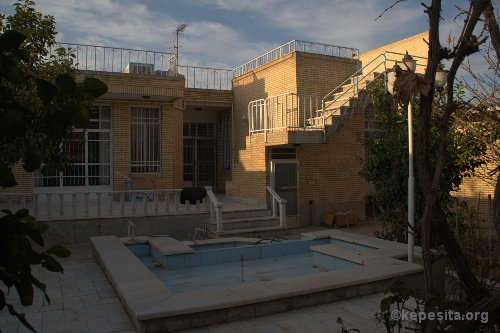 Day183
   Ajo and friends took me to the city centre. There were a lot of people on the streets and most of them were clearly going towards a single direction. Following the stream of people, I got the the entrance of a huge hall. I wasn't able to see what was inside and I didn't know whether they would see the curiosity of a stranger as intrusive. Similarly to the camel checking out the eye of the needle, I had serious doubts about getting in or through. This is when R came. He addressed me and asked me to go in. He grabbed me by the arm and pulled me with him. In the enormous, tent-roofed hall there were several hundreds or perhaps even a thousand people. The men on the left were the active participants of the (as I inferred) funeral service. The women were following the songs from the right side and the gallery.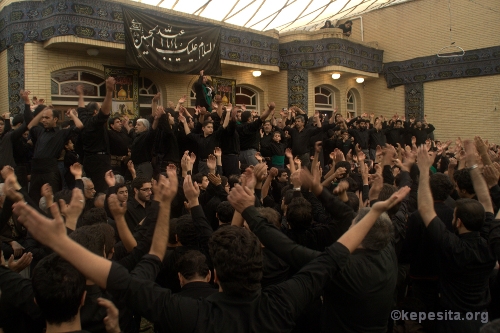 The Shiite Muslims commemorate the death of imam Hussein every year; he was the heroic dead of a battle in A.D. 680. This war was the first manifestation of the antagonism between the Shiite and Sunnite branch of Islam, which often led to bloodshed. They offered me some tea and when I asked whether I could take some pictures, R grabbed my hand again and pulled me to the centre of the hall. I couldn't really move but I was able to see everything clearly. The men were standing around a little mount, where the man, who led the singing (and sometimes even sang on his own) was standing, together with some other respected persons. The men were singing and drumming on their own chest in a rhythm, sometimes in a state close to ecstasy, crying and sensing the pain that goes together with mourning. At the end of the ceremony we went over with R. to the garden of a private house, whose owner invited the mourners to breakfast that morning. After a few bites of food the hundreds of women and men, all dressed in black, gathered in another hall; there, after the singing, the leader ended the ceremony by showing a picture of Hussein, which created a feeling of catharsis in the participants.
    We went over to a several hundred year old mosque, in which men were sitting in groups, chatting and drinking hot tea. R, amongst others, introduced me to the respected leader of the locals, a white-bearded, kind and cheerful man. Afterwards we queued up in the long line, at the end of which warm food awaited us.
   We had the food in the home of a friend of R's and then after saying good-bye to the family, R took me back to my place for accommodation. I thanked him for his kindness and supportive lead and said good-bye to him in the whirl of the mourning ceremony. I said good-bye to the villa and its owner as well – M and his family were expecting me for dinner that evening.
Translated by Szegi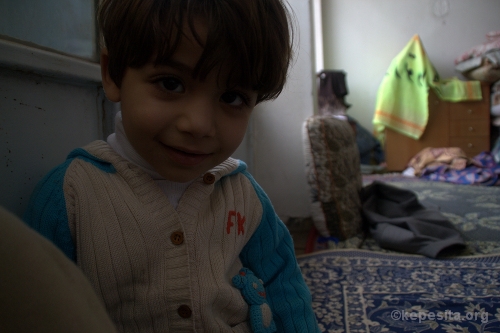 Categories: English, Iran, by Peter

0

/