Shopping Cart
Your Cart is Empty
There was an error with PayPal
Click here to try again
Thank you for your business!
You should be receiving an order confirmation from Paypal shortly.
Exit Shopping Cart
| | |
| --- | --- |
| Posted on March 23, 2010 at 3:20 AM | |
   Before the summer 2009 elections in Iran millions rushed to the streets in the solid hope of a "green" future. The results announced have, however, surprised many. The incumbent administration celebrated its re-election. The administration that has been persistent in fending off attacks by external forces (that promise "democracy" but want to acquire more territories/oil, that is/) but within its borders it applies feudal methods and resorts to religious legitimacy in order to maintain its power. The similarly power-hungry U.S.A. - Israel duo has been lobbying for more and more sever sanctions for Iran, referring to the domestic situation of the country and the alleged projects for producing nuclear weapons (weakening the enemy before an attack?).
   Since the elections people have regularly taken to the streets in the larger cities of Iran, accusing the leadership of the country with election fraud. The militia and other special policing forces are trying to stop this by employing brutal methods.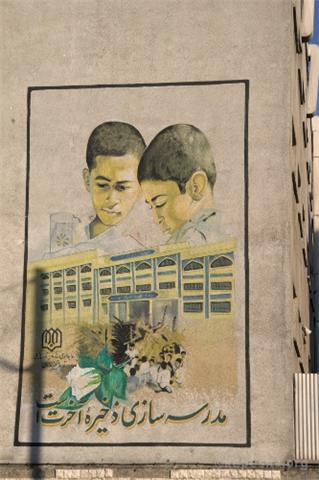 The internet pages, which have been blocked by the leadership and can only be accessed via filter programs (regulated, however, by the West) have become one of the most important communications channels and news sources for the citizens and groups that aspire for change and protest actively. Green, the color of the largest opposition party has by now outgrown the party itself and has become the symbol for "resistance." Green inscriptions have appeared on phone booths, public toilets, walls. However, at night they disappear. Green pieces of clothing, faces painted green at demonstrations, green ribbons. Green, green, green.
   A little café in the city centre is the regular meeting place for a small group of friends, whom I was lucky enough to get acquainted with and through them I was able to form new friendships. They showed me the capital, its atmospheric parks, the former residence of the Shah, the neighbourhood of the university, the wonderful works of art of the Shiite Islamic world and the mountains in the north. They have invited me into their homes, shared their thoughts with me; I was able to be there in their everyday lives.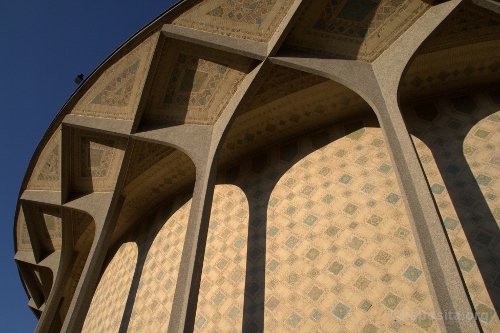 A young man, Za, who was not dismissed... another young man, Dii, who was arrested... another young man, Per, who was electrocuted... a girl, Mi, whose family... another girl, Ajo, whose fiancée... her friend, Ima, who lost...
   I have re-read what I wrote about my friends. Is this how I think of them? Are these few sentences that come to my mind when I think of them? No. How does this fit into a blog that deals with the present-day situation in Iran. I am not writing a blog on politics. I would only like to show two days amongst the many, which have been really memorable for me. I don't dare to say that I know what they need but one thing they surely don't: pity. The above-mentioned are only a small fraction of the millions of happenings, experiences that have and is still forming their personality (this is when I deleted a major part of the text).
    We shared a great deal of laughs and had a lot of intellectual adventures together in the café, or just walking around the city. I was a guest at Za's family for weeks, where they were very hospitable with me and said farewell as if I were a member of the family. Our conversations and city tours with Dii, Za, Mi or Ajo, the birthday party of Ima, the one Per played on his santur....all of these are memories that will stay with me.
The video is also available on YouTube: http://www.youtube.com/watch?v=NTBdmxi5_jo
Days 162-163.
   We planned to compile a short video about the Iranian situation with short monologues and street camera shots. I was wondering how I could make a few shots of the demonstration planned for the day after. I asked for the help of my friends.
   ....with such a video camera the eyes of the police, looking exactly for this kind of stuff, would surely spot me, let alone the fact that  my looks will make me stand out from the crowd, as well. They catch me, look up my local connections, put me into prison for spying, destroy the cameras, etc. They would not kill me, because it would not help their international standing, which is already being contested, but I would endanger the life of my friends.
   Then I asked for a place from which I could observe the events as a paparazzo. In the end Ajo offered the roof of the block of flats he lives in, from which – if the demonstration gets to be a big one – I could take a few shots. I wasn't very happy about it, because if I am caught they can easily get her as well...in the end half of the day was spent on my friends trying talk me out of doing something dangerous but I was stubborn enough to try to find a solution that didn't endanger anybody and at the same time would result in a few good quality shots.
   It was late at night and we were tired when we left the café. We walked up silently to the junction – I think everybody was thinking about the demonstration the day after. Two out of the three girls rented an apartment together and they invited us to their place. Za, however said good-bye. One of the girls started to cry. This stopped him from going. Tears appeared in the eyes of the other girl, as well.
   In a clumsy way I asked Ajo what is happening....they did not know whether they would see each other again, as there were regularly some victims at the demonstrations and they've just lost one of their friends...
   ...And these Iranian youths, my friends, spent hours trying to talk me – an outsider – out of participation. At this point I got really ashamed of myself.
   For what did I want? Did I really believe that I could show what they were going through, what they felt without actually having the faintest idea of their life? Yes, sitting amongst them, I was taken away by their determination, their faith in their own actions. I also wanted to shout "Green Iran"...without really knowing what it meant and what it meant to live in a "non-green" Iran. Or did I want to act as a hero? A hero, who cries "freedom for Iran" on Monday and then travels forth on Tuesday...an outsider, who mocks their convictions by acting as if he understood the situation.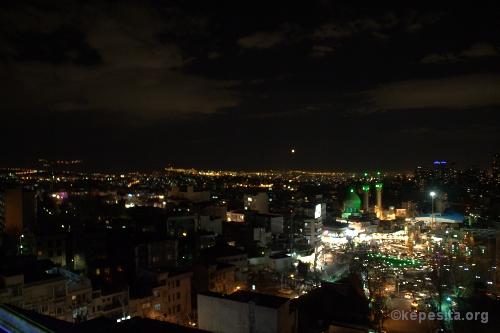 I decided to stay put. Finally, all five of us went up to the flat of the two girls. When we arrived we heard shouting from outside. We all ran up to the roof of a nearby building. In the city, all yellow in the night lights, the cry for the demonstration of the "greens" for the day after was heard -"Allah O Akbar!!!" And then from another direction, as well – soon the whole city was filled with the "Might of Allah." Eventually, as we heard suspicious noises from the street, we ran back into the flat.

 

   Until dawn we stayed sitting on the carpet, blankets on our back, listening to music and talking silently. I will never forget that night. I only had vague ideas of what was going on in the minds of the people sitting around me. I was, however, grateful that I could be there with them.

 

   The day after I woke up seeing that Za is getting dressed. He said good-bye and went to the university where the plainclothes and the police in uniform were already making huge efforts to disperse the assembly of the students. Soon afterwards Mi said good-bye as well and went after Za.

   With Ajo we went over to her fiancée, who suffered a spine and arm injury and thus had to stay home; we remained there and waited for the news.

   Late afternoon Za turned up. We met at a junction. His jacket was torn and he seemed tired when greeting us. At the metro station we stopped for a second, taking a look at the masses of people trying to get under the ground. Almost immediately, a policeman came over to us, who tried to stop any groups of people trying to assemble right at the start. We disappeared amongst the people walking towards the metro. We met Dii and then we had a long conversation on a bench of a remote park. The day after I heard that Mi didn't make it to the university - by the time he got there, there was no more space to slip through between the policemen.




 

   Many people hope that in Iran a change to democracy can remain an internal affair and that it happens without the country becoming a bloody battlefield or an ex-sovereign country being exploited by external powers. So be it.

 

 

 

The video is also available on YouTube: http://www.youtube.com/watch?v=FOb_d_kSjJo




Translated from Hungarian by Szegi


Categories: English, Iran, by Peter

0

/