Shopping Cart
Your Cart is Empty
There was an error with PayPal
Click here to try again
Thank you for your business!
You should be receiving an order confirmation from Paypal shortly.
Exit Shopping Cart
| | |
| --- | --- |
| Posted on March 21, 2010 at 12:45 AM | |
Days 147-150, Iran 1.
   I spent 6 weeks in Iran (my 4-week visa was prolonged with two weeks). Out of these six weeks, I was in the capital 28 days. So there wasn't much time left to visit the other parts of the country. But I was and I am glad that the visa issues kept me in Tehran. Thanks to my new friends I have learnt to appreciate the freedom in which I was born (as a Hungarian) and which has surrounded me all my life unnoticed – thanks to the struggles of our ancestors.
   The road took me through the following Iranian towns: Marand – Tabriz – Tehran – Qom – Kashan – Yazd – Sirjan – Bam – Zahedan.
   The local leadership, under religious cover, is eager to prevent any information about the present situation of Iran from leaking out from the country. Although without much success. However, there are some things which they are quite good at: to imprison, torture, rape and/or liquidate the local people who, aspiring for the basic rights of freedom, try to protest.
The Iranian blogs are going to be 'nameless', and the pictures 'faceless'.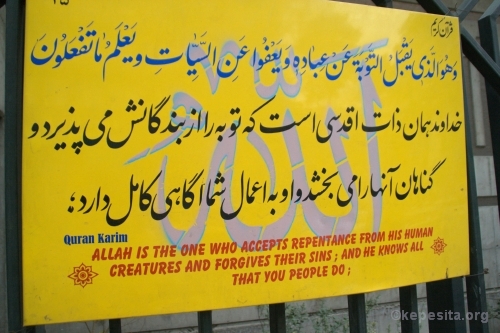 Days 147-148.
   At the Iranian side of the border a gentleman invited us into a seperate office. He asked us some questions about our trip and called one of his collegues who in the past had worked for the Russians as a Hungarian interpreter and had always been ready for a friendly chat. A couple of minutes later he showed up and, gladly trying the word 'szerbusz', he greeted us. We exchanged a few words, finished the protocol and got permission to enter the country.
The Turkish gentleman who took us to the border, was not this lucky. After we'd returned to his car to stay with him as far as Marand, he had to run around with different documents. He spat and stated, that 'they only want money' and 'Iran is not Islam'.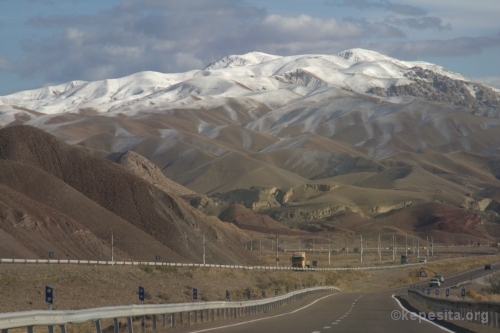 Heading east, the magnificent mountain-ranges crowned with rain-clouds continued to show up, but the lower hills now were of redish colour. The land was forsaken, except some flocks of sheep here and there and a few buildings of brick.
   We spent one night both in Marand and in Tabriz. In both of them, the pavements were painted black by the hiding, attention-avoiding, dark clothes of the people. The photographer has the impression of being a paparazzi. However, initiating a conversation with some people, it turns out that they are helpful and open, even if they looked reserved at first sight. At the bazaar everything is available from sheep-head and washing-powder to clothes and whatnot. I familiarized myself with some kind of food offered in the streets: this kohlrabi-like, sweet-cooked thing provides the body with good heating.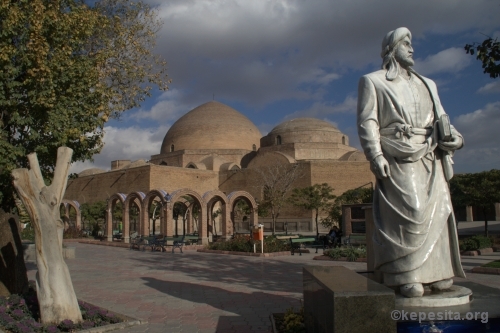 Days 149-150. Tabriz-Tehran
   After hours of walking and a fairly short ride, almost immediately a guy stopped for us. He was heading for the capital. In Tabriz, M had visited one of his girlfriends (a term often used in Iran for a sexual partner, e.g. illegal relationship) who has left her trademark (a heart) with her lipstick on the windscreen. Ear-torturing bass and the Iranian DJ Alligator indicated in a rumbling manner that we were coming.
    In the evening we reached Zajnan, from where we wanted to resume our journey north towards the shore of the Caspian Sea. M drove us into the town and asked: 'alcohol?', with a huge grin on his face. (In Iran one can only get access to alcohol illegally, its consumption is forbidden, it's punished with staff-hits – yet, of all the countries I've visited on this journey, this very country is the one where I've been offered alcohol the most.)
   He was driving slowly, paying close attention to the pavement in a town that was unfamiliar for him also. Sometimes he slowed down even more, staring at a face. Suddenly, he pulled over, jumped out of the car, spoke some words with a man and got back to us. He let us know with a great smile that he'd found the one he had been looking for. A couple of minutes later the man appeared, carefully had a look round the area and handed us a plastic bottle from under his coat. Seeing that it's just half of a liter, I was relieved that wouldn't be getting drunk there.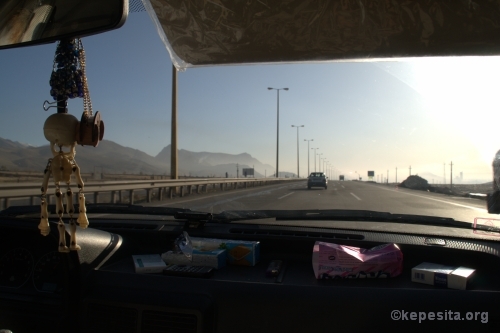 M started to look for a hidden place, driving up and down. Finally, he stopped at a shop near the edge of the town to 'inquire'. As it turned out, police was present almost everywhere in the neighbourhood. But he showed signs that he knew what what he was doing. A few minutes later we were already heading for the capital on the motorway. After paying for the ticket, the little bottle emerged soon. I was the barman. I poured a drink to M and Alex also got some. In a rather selfish manner, I tried to serve Alex and me as much as possible, so that the driver would get as little as possible. At the second –and the last- draught, M suddenly leant out of the window and vomited. Cleaning the door round the window with a smile he said he shouldn't have eaten that cake. He wouldn't drink afterwards.
   Alex and I soon agreed on going with M to Tehran. He'd driven for hours at night, then, at dawn, we stopped at a petrol station about 200 kilometres from the capital. Though he didn't speak English, we communicated continually during the whole trip.
   Although I had the most comfortable spot, it was also me who slept the least. During the first 90 minutes, Alex was struggling with my rucksack on the back-seat, unable to find the right position. He was followed by M. First, he crossed his legs above the glove-compartment. Finally, kneeling-crouching on the floor before the seat, I fell asleep, chasing some kind of a dream, while he bowed his head on my back and shoulder, constantly snoring in the meantime.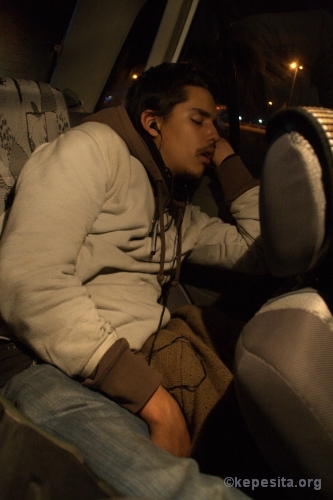 DJ Alligator woke us up and banished even the crow's feet from our face. Apparently, M was satisfied with the previous evening. He indicated he hadn't always been this fortunate. There were marks of gunshot wounds both on his arm and leg – he made his getaway from police officers on a motorbike. He got shot but they didn't catch him.
   In the outer part of Tehran he showed us his favourite place, an enormous park lying on many hills. Then we took his car to the carwash. While the little Iranian vehicle was covered in foam, he turned to us and borrowed some rial equal to about 2 dollars, so that he would give a tip to the washing gentleman. Deep inside, I had to laugh how soon I encountered this situation again, then gave him the requested amount. After the car had got hoovered and we had sat into the car again, M took his wallet out from the glove-compartment and gave the money back.
   He took us to the centre and helped us look for cheap hotel. It was a fairly poor part of the city, loud with cries, full of dark gateways. M told us it was a dangerous part, with frequent shoot-outs and fuss, and not even the police would come here. Some hundreds of meters away he parked the car and waved we should follow him.
   We walked like 15 minutes (leaving the 'suspicious quarter' behind), and near the railway station we found a hotel. However, the receptionist said it might seem suspicious (to whom, he didn't tell) that a Spanish and a Hungarian man was travelling together, so we finally checked into a different place. We agreed with M that on the following dau he would drop by and show us the city. Then, though it was only afternoon, sleep overwhelmed us.
   The following day we waited for M in vain, and so started to discover the city by ourselves.
   Alex accompanied me on my visit to embassies one after the other, but as his visa lasted only 20 days (who knows why), a couple of days later we said goodbye to each other, saying that we would maybe meet in India soon. Then he headed south and went by ferry to Dubai from where he took a plane to 'Tajmahalia'.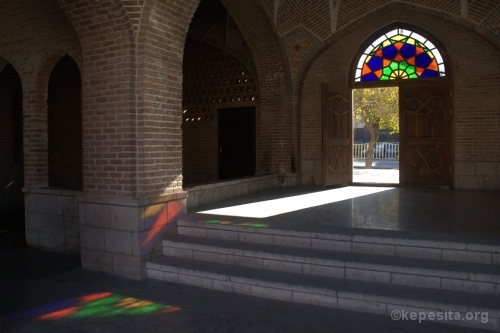 Categories: English, Iran, by Peter

0

/