Shopping Cart
Your Cart is Empty
There was an error with PayPal
Click here to try again
Thank you for your business!
You should be receiving an order confirmation from Paypal shortly.
Exit Shopping Cart
This was the first time I've made a trip without spending any money going to and from my destination. It will most likely also be the last.

There are plenty of good reasons to choose to hitch hike even though one can afford a ticket for a train or a plane. The fact that you meet people all along the way being the main reason. Attempting to travel all the way without any money for food however was an interesting experience and I am glad I did it, but it didn̵...
Read Full Post »
I came home friday afternoon and was just about to slouch down on the couch when I got the urge. That wonderful impuls to just go. I had just finished my one and only exam this semester and decided I could take a little trip. I finished packing a small rucksack in two minutes and set out walking for the Statoil Station in Sandvika.
The destination was Sogndal. Honestly, I couldn't have got there faster if I had driven a car of my own. The first woman I asked in Sandv...
Read Full Post »
Ahh, fehér ember…
   "Bárcsak elég vér lenne a pucámban, s lefotóznám!" Egy börtönszerű, szürke, magas kerítéssel körbevett erődítmény bejáratánál állok. "We want you to feel welcome here"-olvasható az osloi amerikai nagykövet...
Read Full Post »
Halálom mancsotokba ajánlom
   Az aznap reggelre gondolt. Hát igen, kezet kellett volna mosnia előző este, miután
ráömlött a spiritusz, amit főzésnél használtak. Így az étellel abból is jutott a gyomrába.
Mennyivel könnyebben kezdődhetett volna a nap...
Read Full Post »
Det blir ikke noe 5000moh fjell på meg i denne omgang. Det måtte jeg innse før jeg rakk å spørre noen om å følge meg opp. Jeg fant et bilde av fjellet og dette fjellet er ikke ett man går opp på, det er et fjell som må klatres. Kunne ikke kommet meg opp der uten skikkelig utstyr og mye mer erfaring. Fjellet ser ut som en kjegle, en spiss kjegle. Sylskarp. Jeg så aldri fjellet heller, det har vært tykk tåke helt siden jeg var p...
Read Full Post »
Det ble ikke Wucheng. Det toget klarte jeg å miste. I stedet ble det Xi'An.
Da er jeg på the terra cotta compound. Har hatt en positiv opplevelse av stedet. Har sett alt på bilder allerede, så noe nytt er det ikke, men det er kult å se det med egne øyne. Så kan man skryte av det. Bussen ut hit en drøy time fra togstasjonen kostet forresten en fjerdedel så mye som den kaffekoppen jeg nettopp kjøpte på en kafé inne ...
Read Full Post »
I dag skal jeg til XiLing Shan og jeg gleder meg veldig. Men før jeg glemmer alt om han må jeg skrive om en dude i Xi?An. Det kan ha vært det mest varmhjertede mennesket jeg har møtt noen gang, det kan ha vært en ufattelig dyktig skuespiller, han kan ha vært homoseksuell, det kan være han var litt av hvert. Uansett hva det var så tilbrakte jeg mine siste 10 timer i Xi?an med han.
Read Full Post »
(Denne teksten ble skrevet i en liten rød bok jeg hadde med meg under reisen)
Da var turen startet. Jeg sitter på toget i Beijing vest stasjon. Vi har ikke avsluttet påstigningen enda, men allerede er det folk som står i midtgangen uten et ledig sete tilgjengelig.
Det kommer til å bli litt av en tur. Har så langt bare en vag plan om at jeg skal til Yunnan via provinser på østkysten før jeg returnerer til Beijing via Chengd...
Read Full Post »
Dette er en en samling brev jeg skrev hjem til familie og venner da jeg var på tur med min sårt savnede Yamaha Tenere sommeren 2008.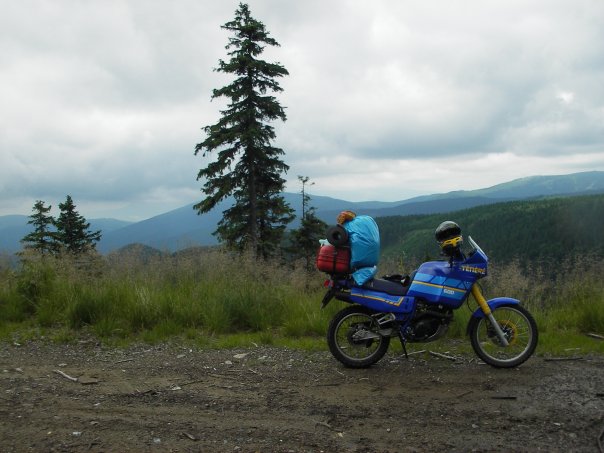 Det er förste gang siden jeg startet denne turen at jeg har en PC forran meg som jeg kan bruke en stund. ...

Read Full Post »

0

/